From the Greek word 'atalantos', meaning 'of equal weight', Atalanta Motors is once again providing that perfect balance between fun and practicality, character and technology in one beautifully packaged, tailor-made British classic car, in the style of its 22 ancestors. Far from an attempt to rebuild the original model, the new Atalanta is an evolution of what was one of the most technically advanced cars of its time.
The Olympic heroine who shares the same name was also abandoned before she had reached her full potential. The myth tells how, left alone in an Arcadian forest by her father, Atalanta was adopted by bears and cultivated into a strong warrior. In the same way, Atalanta Motors has been re-discovered and nurtured to become a resilient, modern, vintage-style car brand by new MD Martyn Corfield.
When we say 'new' we mean 'most recent', for Martyn has in fact been part of a small team working to revive the brand since 2009 when he acquired one of the few remaining 1930s Atalantas. He says: "The whole challenge for me was not just to restore the car that was available but to restore a whole motor company, particularly one with an interesting heritage that no one had ever really heard of."
Determined to reinstate the brand, he secured the rights to Atalanta Motors and embarked upon recreating this vintage car, incorporating the unrestrained luxury of an era when style very definitely ruled the road, along with the modern safety and reliability features that are so necessary in today's cars.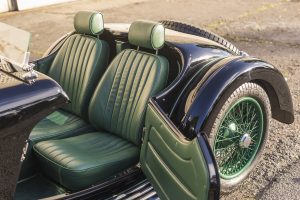 The resulting new Atalanta has indeed achieved the right balance that will allow those with a passion for motoring to taste today's engineering excellence along with the unbeatable joy of driving a car that is nothing short of a work of art.
As far as the British classic car goes, the new Atalanta is as unique as they come; each is built to the exact requirements of any fortunate owner. Interior colour and trim can be selected to suit, and adjustments made to the coachwork and cabin to suit personal preferences.
Even with this buyer input, the new Atalanta retains all of the authentic, beautifully flowing lines, lightweight coachwork, independent suspension and powerful 4-cylinder engine as the 1936 model but also benefits from nigh on 80 years' worth of advancements in engineering, safety and comfort.
Modern technology is seamlessly incorporated, in the form of hydraulic disc brakes, electrically locked doors, rack and pinion steering, as well as more obvious additions such as headrests, tail lights and indicators (all included to satisfy rigorous Vehicle Approval regulations).
Explaining his interest in the Atalanta, Martyn says: "I've always been drawn to innovative engineering. The Atalanta's independent suspension, clever engine and gearbox was revolutionary at the time, and further development was only halted by the circumstance of war. We're giving the great British underdog a second chance, building on the original technology to create an even better driving experience."
Indeed, Atalanta Motors' team of craftsmen has had the opportunity to demonstrate their own innovative capabilities on each and every part of this vehicle. Aside from the Atalanta enhanced, lightweight 2.5 litre engine, T9 5-speed gearbox and differential, all other parts are bespoke. Some 2500 skilled man hours contribute to each car, warranting the waiting time of around a year.
Hand-crafted from scratch, every detail is individually and painstakingly formed; from the decadent leather interior and cabin filled with Art Deco touches, to the laced 18 x 4 Rudge Whitworth-style wire wheels. Everything has been styled to enhance the Atalanta driving experience, including a sympathetically-designed 3-bow 'get you home' hood.
With the job of creating the new Atalanta comes the daunting task of spreading awareness of this once lost British masterpiece. Martyn says: "When we discovered the Atalanta we also recognised a missed opportunity: the Atalanta was just beginning its journey when war put a stop to production. As a team of craftsmen, engineers and motor enthusiasts, we feel compelled to continue the story and revive the Atalanta as a modern, premium, vintage brand."
This shouldn't be difficult; anyone who encounters the new Atalanta will fall instantly in love, not only with its stunning appearance and driving capabilities but with the historic tale of its revival.
As with all mythological creatures, seeing, or in this case, driving is believing.
To discover more about Atalanta Motors and enjoy the driving experience of a new British classic car, visit www.atalantamotors.com or call 01869 242200.