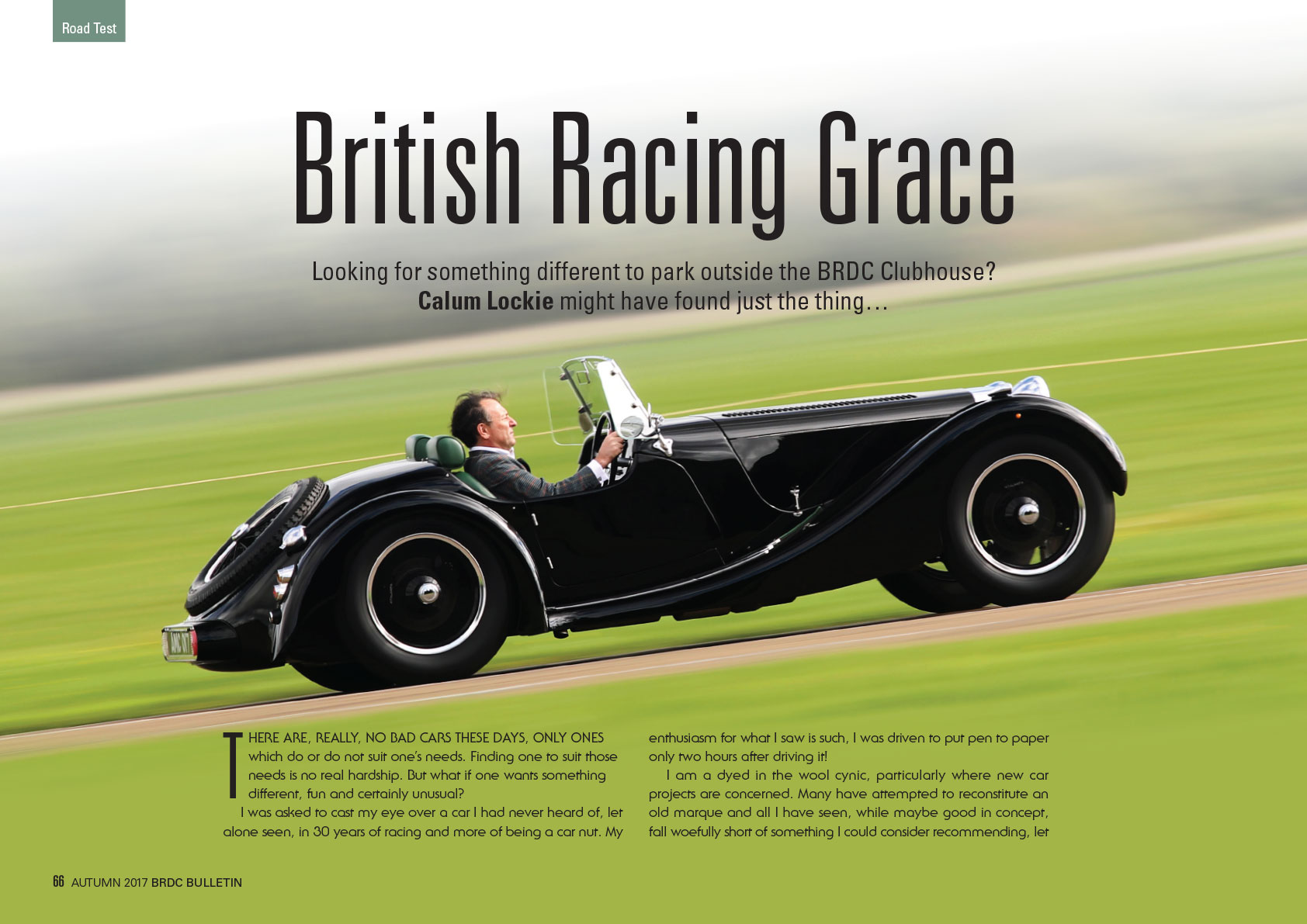 I was asked to cast my eye over a car I had never heard of, let alone seen, in 30 years of racing and more of being a car nut. My enthusiasm for what I saw is such, I was driven to put pen to paper only two hours after driving it!
I am a dyed in the wool cynic, particularly where new car projects are concerned. Many have attempted to reconstitute an old marque and all I have seen, while maybe good in concept, fall woefully short of something I could consider recommending, let alone having myself. The main problems usually are general quality, components (such as switchgear) and finish.
With some trepidation, I arrived at Bicester Heritage to see and sample the latest production of Atalanta Motors Ltd. I was in for a considerable surprise.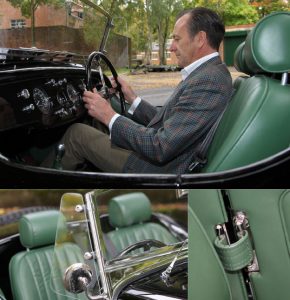 My first sighting of the car was side on and, immediately, I liked what I saw. Aesthetics are very important – one probably spends more time looking at such a car than driving it and, as the adage goes, if it looks right…
And so it did. The attention to detail is immense, while the engineering solutions make everything compliant with onerous SVA regulations. The incredible vintage look and feel is retained – a real measure not only of the car itself but the team behind it, especially when one remembers that this is the development car.
Make no mistake, this car is an Atalanta. It is not 'based on' any other car or floorplan. Martyn Corfield, multiple Austin Healey Land Speed Record holder and racer, and his team have re-started Atalanta Motors Ltd after many years. The car is built to the same design, while employing ultra-modern techniques.
Sadly, many cars have some features which are just not quite right. Try as I might, I could not find a view of the car which gave me displeasure. It really is a masterpiece and a feast for the eyes. The work that has gone into the Atalanta is highly impressive. The attention to detail to create the correct feel and persona of the car is the key to the design team's success.
The engine is an unsupercharged four-cylinder 2.5 litre aluminium unit with variable valve timing. It has a heavier flywheel and is fitted with Atalanta's own induction system and aluminium cam cover emblazoned with the company logo. The gearbox is beautifully crisp and has a short-shift feel to it. Built more with torque (198 ft/lbs) in mind, it produces 214 bhp (there is also a 350 bhp supercharged engine) and with the car weighing 750 kg overall, the Atalanta is nimble and responsive, just as it should be.
The brakes are discs all round but unservoed so, while it provides the car with good reliable retardation, they still give that vintage feel. The front caliper sits horizontally atop the disc, with the Atalanta logo easily readable without cricking one's neck. Seen through beautifully-spoked, aluminium rimmed wheels, some may think that the discs and calipers spoil the vintage look. I think not, but Atalanta has created faux drum brake covers to cater for that taste.
There is no options list. This car is hand built and, therefore, you can ask for what you want.
Other notable features include the brass radiator cowling finished with high-quality chrome, the rear wing cutaway on the trailing edge, beautifully engineered dashboard control switches made to Swiss military grade and completely waterproof, steering wheel spokes with elegant slotting. Lights are modern, sealed beam units, but hand-made by Lucas in Sheffield. It has twin fuel filler caps but the right-hand cap hides a trickle charger port: a beautifully thought-out, practical item.
The windscreen retaining castings are of aluminium alloy, cast to exactly the same design as the 1930s car, while including mountings for the now required side mirrors. As ever, the devil is in the detail. The production process starts with creating a CAD copy which is FEA tested. It then includes a heating phase, which extracts all the pockets of air often associated with such castings, leaving a stronger, stable high-quality finish which does not 'flower' like so many.
Another period detail is the seats. They have been specifically designed and crafted, so not only does the leather have a special lustre to it but has been fitted to allow a little more movement, enabling the leather to crease gracefully. The result: the more you use the car, the quicker it achieves the essential vintage look and feel.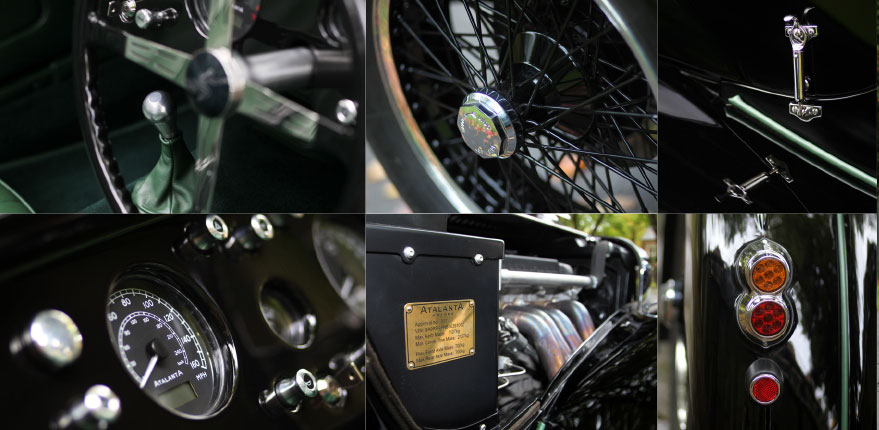 The trouser creases running down the rear wing taper away to be picked up again through the rubber gasket on to the stainless-steel 3D printed rear light units. 'Suicide doors', illegal unless you have a compliant safety system – referred to by Atalanta as their 'suicide safety system' – close with the absolutely obligatory clunk. The steering wheel centre logo is made by Fattorini in Birmingham. I could go on and on, but there simply is not enough space.
The driving experience was eye-opening with custom Michelin tyres. I was expecting the handling to be less than crisp and, over the high frequency bumps, I thought the suspension would tie itself in knots. None of it. Even sliding out into beautifully controllable oversteer, trail brake sliding into corners, tyres staying in contact with the tarmac so no snap oversteer, the steering has good feel and is precise.
The brakes, un-servoed, confidence-inspiring and even at low speed, or stationary, are not heavy. All this comes with a lovely growl from the side exhaust. In extremis, there was only a hint of scuttle shake over the high frequency of the seriously bumpy surface of the test track.
Heel and toe was awkward for me due to the brake to throttle pedal relative positions. Braking from high speed, two up, was stable with no bump steer or darting side to side, giving confidence to push harder. This is due to the innovative suspension set up carried over from the 1930s cars. It has parallel trailing link arms front and rear.
On the road, the ride is firm not jarring. It rides the bumps very well and surprisingly for an open topped car, has no scuttle shake. Steering is precise and confidence-inspiring.
But watch out! I gave it a blast in third and fourth before slotting it into fifth, looked at the speedo and was surprised to see I needed to get on the brakes quickly to avoid attention from the boys in blue. This car is no slouch.
The overall driving experience is one of great fun while giving confidence. The car springs no surprises and tells you exactly what it is doing.
The overall driving experience is one of great fun while giving confidence. The car springs no surprises and tells you exactly what it is doing. This development car is probably a little over-geared with 3,000 rpm at about 80 mph, although this has been addressed in the production version.
Luggage space? Suffice to say, it will carry six cases of champagne with space in-between for items such as a toothbrush.
And finally, there is no options list. This car is hand built and, therefore, you can ask for what you want.
In conclusion, I have two things to say: the first is that the smile that came on my face within the first 50 feet of driving this car never left. The second is that, if you want a car with that quality vintage feel without the fiddling, look no further.