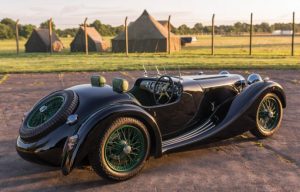 As well as the Bugattis, a 1946 Hewson Rocket and 1957 Ferrari 250GT Tour de France provided tough competition in the paddock for the Best In Show award which has been won in previous years by a 1937 Alfa Romeo 8C 2900B, an aesthetically futuristic 1953 Alfa Romeo BAT 5 Bertone and the 1969 Aston Martin DB6 Volante used by Prince William to drive away his new bride following their wedding.
By clinching the 2007 Style et Luxe Best In Show title at what is unarguably the most respected concours d'elegance in the world, the original 1937 Atalanta joins this fine pedigree of winners, bursting with style, design and innovation.
The same design philosophy that set the Atalanta apart from its 1930s contemporaries now also identifies it as a leader amongst the excellent specimens of automotive distinction that span the last eight decades; cars that annually have motoring connoisseurs in rapturous wonder at Goodwood.
The Cartier Style et Luxe awards are as much about art and inspiration as they are about automotive engineering. Reinforcing the fact that cars can be masterpieces in their own right, the judging panel consisted of artists such as Darcey Bussell, Bryan Ferry and Richard Hamilton, along with automotive aficionados such as former F1 designer Gordon Murray, Nissan's Shiro Nakamura and Porsche's Tony Hatter.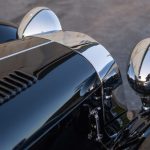 The eclectic themes of the display included class titles such as Finned Fantasy – the Space-Age influence on 1950s American car design; and Going Nowhere Fast – rare supercars of the 1990s; accompanied by Allen Jones' wacky sculpture consisting of the rear half of four Cadillacs, each upended in the ground and emblazoned with the portrait of a 1950s siren – a twist on the similar 1970s work, Cadillac Ranch, in Texas.
Away from the art installation, the full complement of 44 Style et Luxe cars made stimulating viewing for all of the visitors who annually number in excess of 200,000 over the four-day event. Contrary to other motor exhibitions, Goodwood Festival of Speed encourages visitors to get hands-on with the vehicles, meaning that even the Bugattis couldn't escape inspection by any eager enthusiast who wanted a closer look and a fleeting touch.
Even among such glittering company, the uniquely talented Atalanta managed to trump the other fine motors on show in the Style et Luxe concours, including the Kellner-bodied Coach which, at the time of display, held the world record automobile auction price of £5.5million!
The new Atalanta preserves the essence of that 1937 motor, building on those same stylish lines with exquisite, hand-crafted parts, using modern materials and technology only where appropriate.
To commission your own modern British classic sports car that possesses today's performance, reliability and safety, and yet wouldn't look out of place on the Style et Luxe concours, contact us today.